Bon bah ça y est. J'ai chuté. Cette histoire de nouvel article toutes les semaines aura à peine duré un mois. Je dois avouer que je le sentais un peu venir, quand même, hein.
Après, là, j'ai une excuse : j'ai déménagé et je n'ai toujours pas récupéré une connexion internet stable. Mon fournisseur d'accès (Bouygues ; je précise, parce que j'ai remarqué que c'est un détail qui intéresse vachement les gens, quand j'en parle) m'envoie des textos assez mystérieux, genre : "Le traitement de votre incident nécessite la poursuite d'investigations. Nous vous tiendrons informé de sa résolution." Donc là voilà, je suis sur internet grâce à une connexion publique qui coupe régulièrement et pour des périodes allant d'une minute à une semaine. Je fais avec, pas le choix.
Et pas tellement la motiv pour écrire un vrai texte, aujourd'hui. Quitte à avoir foiré, c'est bon, je vais pas en plus me faire chier, hein. Donc juste un lien vers un clip incroyable, qui fait probablement partie des meilleurs que j'ai jamais vus. Je l'ai découvert sur ce blog, qui est bien entendu conseillé. Le clip illustre la chanson "Queen of Hearts" du groupe canadien Fucked Up, chanson dispo sur le concept-album "David Comes to Life". Sauf que dans le clip, c'est pas tout à fait la version originale qu'on entend... Je vous laisse découvrir, mais sachez juste que les gens qu'on voit chanter sont également ceux qu'on entend. On va dire que je suis clair. A plus !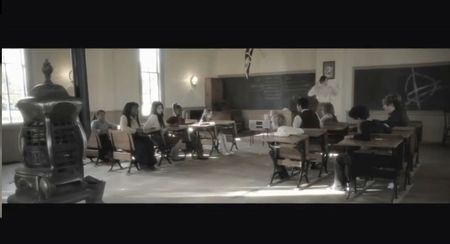 Sun rises above the factory but the rays don't make it to the street.
Through the gates come the employees, beaten down and dragging their feet.
A group of lefties hand out pamphlets to the workers coming in.
For two people on the pavement life will never be the same again.
When she placed it in his hand, people must have seen the sparks.
Neither understands what just happened to their hearts.
"Another morning in this place has ripped me out of my dream."
Realizing life's a waste as the whistle lets off steam.
One thing about it all is nothing's ever going to change.
It's like our progress has just stalled and everyday is the same.
"She placed it in my hand." Co-workers must have seen the sparks.
"I couldn't understand what just happened to my heart."
"Hello, my name is David, your name is Veronica, let's be together, let's fall in love. Hello, my name is David, your name is Veronica - let's be together, until the stars go out."
All we need is for something to give, the dam bursts open, we suddenly live.
"The boot off my throat, life is returning, the boot off my throat, let's all emote."
"Dawn breaks across this town and a new dawn breaks for me.
I couldn't take the pains of the underclass, trying to smile through gritted teeth.
We must now all join up and throw off the shackles of shame.
United we can't be defeated, they shall hear us proclaim.
I placed it in his hand. Comrades must have seen the sparks.
I couldn't understand what happened to my heart.
Hello, your name is David, I am Veronica, let's be together, until the water swallows us.
Hello, you must be David, I am Veronica - let's be together, until we're all finally crushed."
All we need is for something to give, the dam bursts open, we suddenly live.
"The boot off my throat, life is returning, the boot off my throat, let's all emote."